Nikon Nikonos III
by Karen Nakamura
Overview and Personal Comments
The Nikonos III is a classic underwater camera made by Nikon released in 1975 and made until 1980. It is a direct descendant of the first Calypso camera designed by Jacque Costeau and later released as the Nikonos I in 1963. The Nikonos I, II, and III all share a similar body-shell and are manual-focus (scale-focus), manual exposure (guess-exposure) mechanical cameras. They feature interchangeable lenses, some of which can be used on both land and underwater. Using the text or images on this website without permission on an ebay auction or any other site is a violation of federal law.
I bought my Nikonos III in September 2005 so that I'd have an indestructible little camera to take with me when I go boating, kayaking or scuba diving. Prices on these cameras have really dropped -- they used to be $300 or so, now they are under $100 if you search hard enough.
Nikonos Timeline
Nikonos I (1963): The first Nikonos was based on the Calpsyo designed by Jacque Costeau's company.
Nikonos II (1968): The Nikonos II improved the internal mechanism of the I.
Nikonos III (1975): This major redesign of the Nikonos system is the all-time favorite of old-timers. It remains entirely mechanical and gains a synchronization terminal for electronic flash. The Nikonos III is practically indestructible as long as you take care of its rubber seals.
Nikonos IVa (1980): The Nikonos IVa added auto-exposure but it didn't have any manual speeds. Most people either stick with a III or go with a V. Film changing is also much easier with a rear door, like most contemporary cameras, but prone to flooding. Avoid the IVa.
Nikonos V (1984): The V was the last Nikonos to come out and is the favorite of underwater photographers. It offers both TTL auto-exposure and manual controls with higher shutter speeds.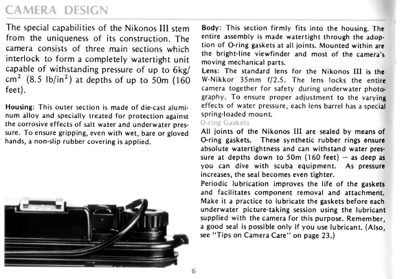 ---
Interesting quirks about the Nikonos III
The Nikonos features a combined shutter wind/release lever. You push the wind lever towards you to release the shutter (fire the camera), and after the shot, the release lever will pop forward. You push it back in to wind the film and cock the shutter.
The camera only has 5 film speeds: 1/30, 1/60, 1/125, 1/250 and 1/500. Since it's manual exposure, this isn't that limiting. Why aren't there slower speeds? It's kind of hard to set up a tripod underwater. Why aren't there faster speeds? It's kind of dim underwater. There's a connector on the bottom of the camera for a proprietary flash bracket. When taking shots underwater, use high-speed film, a flash, and keep your subject pretty close (less than a meter). The accessory sports finder helps with framing.
It's a bit tricky to open the camera, especially if it's been in storage for a while. Be sure to read the tips below for opening it. Don't use the lever arms on the straps!!!! Don't forget to take the lens off first, that's how you open the Nikonos!!!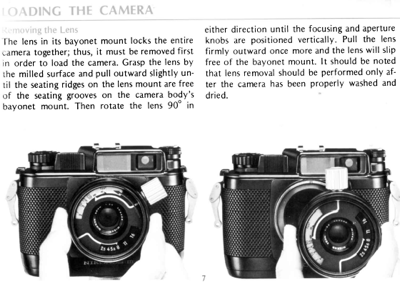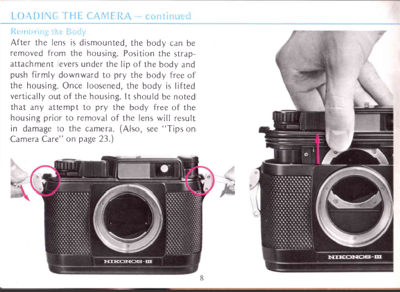 ---
Technical Details - Body
Camera Name

Nikonos III
Nikonos V

Manufacturer

Nikon

Place of Manufacture

Japan

Date of Manufacture

1975-80
1984-

Maximum Depth

50m (160')

Focusing System

Scale-focusing

Lens Mount

Nikonos Mount (bayonet)

Shutter

Focal plane shutter (vertical travel steel)


1/30 sec ~ 1/500 + B
X-sync = 1/60
1/30 sec ~ 1/1000 + B
Batteryless backup of 1/90 sec
X-sync = 1/90

Metering System

None - guess metering

Auto Exposure

Flash

Proprietary flash connector

Film type / speeds

135 type (35mm standard film)

Battery type

None

2 x SR44 Silver-Oxide (1.5v)
or 1 x CR 1/3N lithium battery

Dimensions and weight w/out lens

~790 grams
1x0 X 1x0 X xx mm

~700 grams w/o lens
146 X 99 X 58 mm

Note: Using the text or images on this site in an ebay auction without permission is a violation of your ebay Terms of Service. I will report you to ebay if I discover such a violation taking place.
Technical Details - Nikonos Lenses
Most Nikonos lenses were designed to be used solely underwater. Only two lenses can be used amphibiously: the W-Nikkor 35mm f/2.5 and the W-Nikkor 80mm f/4.
All Nikonos lenses can be used by all Nikonos cameras, but only lenses designed for the IVa or V have the electronic contacts that allow these cameras to operate in auto-exposure mode.
Manufacturer

Nikon

Lens

35mm f/2.5 W-Nikkor
(Amphibious lens)
35m
35mm

Serial #

Place of Manufacture

Japan

Date of Manufacture

~
~
~

Lens Construction

x elements in x groups
x elements in x groups
Aspherical element
x elements in groups

Lens Mount

Nikonos bayonet mount
(scale-focus)

Focusing range

0.8 meter - infinity
Right focusing (infinity at right)
63° Angle of View (AoV)

Can be used in water and on land


0.9 meter - infinity
Right focusing (infinity at right)
63° Angle of View (AoV)


Apertures

f/2.5~ f/16 (stepless)
6 aperture blades

f/~ f/16 (x stop steps)
xx aperture blades

f/~f/16 (x stop steps)
xx aperture blades

Filter Mount

Filter: xxmm threaded
Lens cap: xxmm push on

Filter: mm threaded
Lens cap: mm push on

Filter: mm threaded
Lens cap: mm push on

Body Construction

Dimensions and weight

mm D x mm L
xxg

mm D x mm L (
g




Retail price

¥


¥
---
About Nikon / Nippon Kogaku
Nippon Kogaku K.K. (Japan Optics Corporation) started out in 1917 as the optics affiliate of the Mitsubishi conglomerate (who also made the Zero fighter plane). Nippon Kogaku originally made military optics such as gun sights and rangefinders; as well as scientific microscopes and telescope optics. In the 1930s, they made various optics for view cameras and also were an OEM supplier to Seiki Kogaku (now Canon Camera), making lenses for the early Canon rangefinder cameras. Nippon Kogaku actually produced all of the lenses for Canon (Seiki Kogaku) until 1947.
After the war, Nippon Kogaku needed a non-military market and they started making Leica and Contax-compatible lenses. They realized that they needed to produce a camera system of their own to meet the post-War demand, both commercial as well as for the U.S. military. After waffling on a TLR system (tentatively called the Nikoflex), they made the big jump of making their own rangefinder system, the Nikon I in 1948, which was loosely based around the horizontal shutter design of a Leica and the lens/rangefinder/body of a Zeiss Contax. American photojournalists covering the Korean and then Vietnam War discovered Nikon's Leica/Contax compatible lenses as being the equal or better of their Leica/Zeiss lenses; and the Nikon camera bodies proved themselves in the Korean conflict. Life magazine was instrumental in promoting the new camera system and lenses "back home." Nikon S, S2, S3, and SP cameras are now in hot-demand as both collectibles and great user-cameras.
The Nikon F camera series, released in 1959 (well after all of the other Japanese manufacturers had released their own SLRs), launched a new era in Nikon's history. The F was acclaimed as an extremely rugged camera and for four decades through its various iterations (F, F2, F3, F4, F5), ruled supreme as the photojournalist's camera of choice for photography in harsh conditions - from the Antartic to the Sahara.
In terms of body construction, Nikon uses the same simple-strong philosophy of Leica. Nikon cameras are not crammed with features, but because of this, they are simple to use and very reliable. Nikon is also a conservative company, staying a generation behind in terms of technological innovation in cameras (auto-focus; ultrasonic lenses; vibration reduction; and currently, full-frame digital). However, pros who prefer reliability over feature-cramming prefer Leica and Nikons, while people who want the latest tend to buy Canon. This has proven to be Nikon's achilles heel in the digital photography revolution and it has limped behind Canon.
Optically Nikon also follows the Leica philosophy of resolution over contrast. Canon and Contax have traditionally valued contrast over resolution, which makes for sharp and crisp photographs. Leica/Nikon photos are more muted, but there is more fine detail in the shadows and highlights. For more information, see Dante Stella's write-up.
---
On the Net