with some info on the Micro Four-Thirds (MFT) lens mount system
by Karen Nakamura
Overview and Personal Comments
UNDER CONSTRUCTION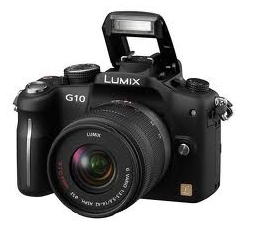 The Panasonic Lumix DMC-G10 is what many people call a "DEVIL" camera -- Digital Electronic Viewfinder Interchangeable Lens. This is because while it looks like a traditional Single Lens Reflex (SLR), there is in fact no reflex mirror -- the eyepiece actually contains a small electronic viewfinder (EVF) rather than an optical pentaprism. Using the text or images on this website without permission on an ebay auction or any other site is a violation of federal law.
More.... more .... more text here.....
The Tunnel Effect: My main complaint of many prosumer digitals SLRS and DEVILs including the 20D, Nikon D70, etc. is that the viewfinder magnification is low. This is the cause of the "tunnel effect" when you look in the viewfinder of most DSLRs except the full-frame ones. Going from the gorgeous full-field viewfinder of a rangefinder such as the Leica M7 to the tunnel vision of a DEVIL is difficult to get used to. If you want the shock of your life, look in the viewfinder of something like a Leicaflex SL or Leica R9, these SLRs have the best viewfinders of any SLR I've ever seen, bar none.
---
Image Quality
Under testing...
Battery Life: Panasonic says...
---
Lens Work
I only have the kit 14mm - 45mm (35mm equivalent of 28mm - 90mm) f/3.5~5.6 zoom lens. Normally, I hate kit lenses -- as this lens is no exception -- because they are cheaply constructed. The kit lens on the DMC-G10K is no exception. So let's forget that....
I suppose you think I'll sing the praises of other micro-four-thids lenses, but I won't. You should buy a MFT camera not because there are great MFT lenses (there are a few), but...
because you can put almost EVERY SINGLE classic camera lens on your MFT body with an adapter! Read on.
Lens Adapters:
The MFT lens mount is unique in that it has the shortest flange-back (also called registration) distance of any interchangeable lens camera. This means that you can buy lens adapters that will allow you to use almost every classic camera lens in existence. So far I've bought adapters in the following mounts:
Leica R lens

Leica M lens

Leica M39 screwmount (LSM)

Pentax M42 screwmount
These lens adapters do not need any optical correction in order to let you use the other manufacturer lenses on the Pansonic body. Just mount and load.
You do have to tell the DMC-G10 to allow you to use it with "no lens attached" -- since there are no electrical contacts on the lenses, the body thinks that there is no lens on it. But once you make that setting, the camera turns on one additional feature -- automatic focus enhancement. When you are in lens-off mode and touch the rear control dial, the camera automatically zooms in digitally to allow you focus more precisely. A great feature, thanks Panasonic!
Technical Details
DMC-GF2
2010.11~

2010.3~

2010.07~

Digital Interchangeable Lens
Rear LCD only

Digital Interchangeable Lens
0.52x effective magnification w/50mm lens
100% viewfinder coverage
17.5mm eyepoint relief
Fixed matte screen
-4 to +4 diopter adj.

Micro Four-Thirds (MFT) Mount

(Four-Thirds compatible with adapter)




Vertical focal plane shutter
60 sec - 1/4000 sec + B & X (1/160 sec))
Miniplug type remote control


xx


3.2 fps continuous shooting (high)
Unlimited JPEG shot maximum burst
7 RAW burst

Multizone TTL meter
Matrix/ center-weighted / spot modes
EV 0~18 (@ISO 100)




External hot shoe1/160 sec X flash sync

Built-in GN11 (meters; ISO 100) flash



4/3 Type MOS
13.1 mp sensor
12.1 effective pixels
4000 x 3000 pixels
18×13.5 mm (2.0x focal length equivalent)
3:2 aspect ratio

Sensitivity: ISO 100-3200 (6400 selectable)

Body: 113 x 68 x 33 mm
265g (excluding battery)

Body: 124 x 84 x 74 mm
336g (excluding battery)
558g (w/ battery+kit lens)
Body: 124 x 84 x 74 mm
371g (excluding battery)
593g (w/ battery+kit lens)

$xxx MSRP (body only)


$xxxx

MSRP (body only)


$799

MSRP (14-42mm lens kit body)

Note: Using the text or images on this site in an ebay auction without permission is a violation of your ebay Terms of Service. I will report you to ebay if I discover such a violation taking place.
---
About Panasonic
Panasonic was basically unknown as a consumer camera manufacturer until it started producing its Lumix series in partnership with Leica. Panasonic designed the bodies and the sensors, while Leica provided its optical know-how on the lenses. Its been a very successful partnership on both sides -- although perhaps benefitting Panasonic much more than Leica.
---
On the Net